Posted by Catie on January 3rd, 2013 . Filed under:
Blog365
,
Home
.
I started a new home management and budget system for the new year. I figured I'd share it here so that maybe it could help someone. I don't know how well this system will work in the long term, but I'm hopeful that it's at least a good start. The binder (and most of the supplies) can be found at Target. The daily docket and other worksheet dealies are printables I found through Pinterest. The outside of my binder has a daily docket sheet where I can write down my to-do list and goals for the day, as well as my fitness goals and what's for dinner.
On the inside cover I have a freezer inventory sheet. This isn't complete yet, mostly because it's friggen cold in Indiana right now and I don't want to stand out in our cold garage with a pen and paper and write down all the stuff in our freezer. Maybe I'll make Branden do it.
There's also a new planner. I used to use an Erin Condren life planner, but those are expensive and in the year of living lean to pay off debt, I didn't think spending $50+ on a new planner was the best of ideas. It doesn't really have anything that this planner doesn't have. Plus this planner has a full two page spread monthly view, which is super helpful because I write really big. It's also got a weekly view, which I'm sure will be more handy once I start taking on clients again.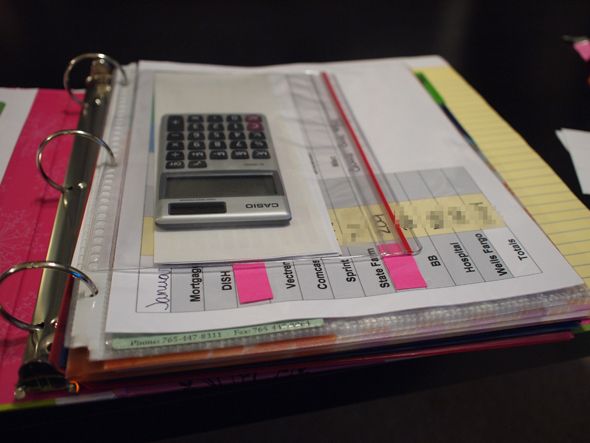 I salvaged this pocket from my life planner. It worked out perfectly to hold my calculator and the gift labels that came with the life planner as well. There's also now a sharpie in there for filling out the budget sheet.
This is our monthly budget. I printed out one copy and stuck it in a page protector. I write on it with sharpie (need to get a dry erase marker) and I can wipe it off at the end of the month. This wastes less paper and ink. The first column shows our monthly bills, the next is for our projected payment totals, then the actual total. There's a column for writing down Branden's total paycheck, one for gas, fun, and grocery payments, and then columns to write down our savings for the month and how much we've put toward our debt snowball as well. At the end of the month I'll take these totals and input them all into our master yearly spreadsheet. It totals up everything and gives me the numbers for the whole year. (I have intense love for spreadsheets, guys. I should have been an accountant. lol)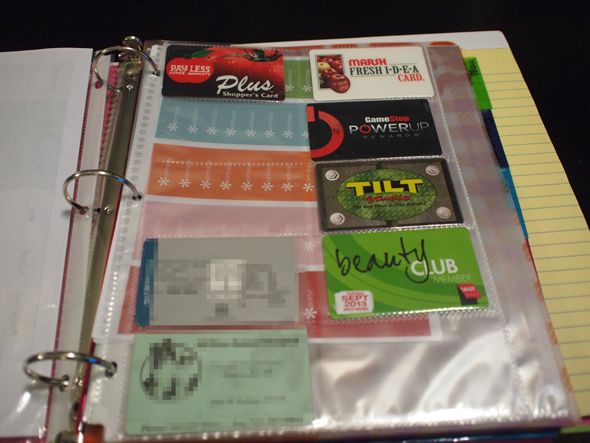 This is a business card holder. I use it to hold our shoppers reward cards and other important cards. (Our health insurance card and a card from our vet so I can easily find his info.) There are a few more of these pages so I have room to expand if necessary.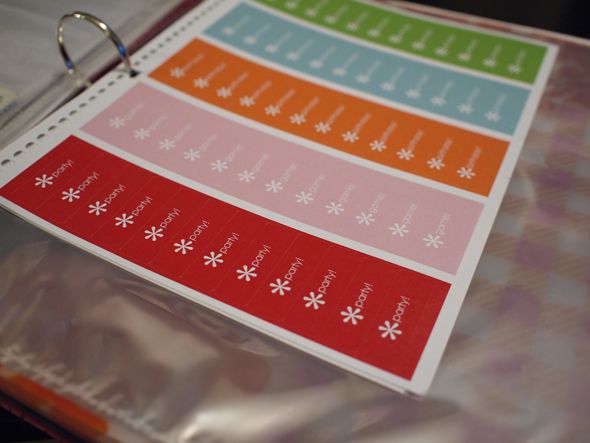 I stole these stickers from my life planner as well. I never used any of them and I felt like it would be a waste to throw them out. Maybe I'll find a use for them this year!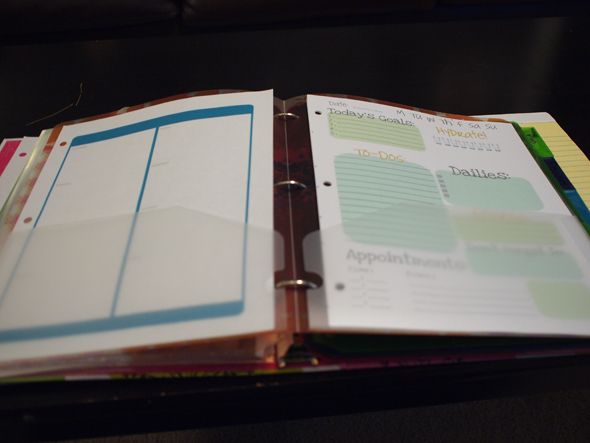 This folder holds my weekly blog ideas sheets and extra daily dockets. I really need to make a Kinko's run and have copies made of both so I'm not wasting so much printer ink. I'm currently completely out of printer ink thanks to printables. They're addicting!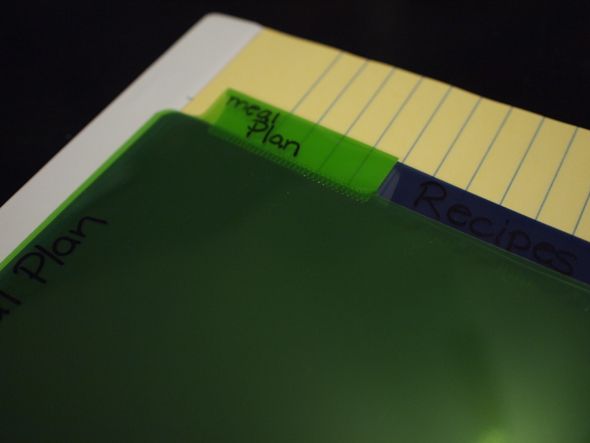 At the back I have a set of divider tabs. There's a tab for our meal plans, one for recipes, another for receipts and then one for the used daily docket sheets. There's an extra in case I think of something else that should go in here. (Probably kiddo info when that time comes.) I also stuck in a pad of paper and some sticky notes as well. The pad of paper has my ever growing list of to-dos. It's nice to have in the binder because I can look at it at night when I fill out my docket sheet and pull a couple things off of it to accomplish during the day.
That's all for my binder. Do you keep a home management binder?